Cannabis stocks experienced a volatile week as gains from U.S. legalization and Sessions' resignation were erased by Friday.
Three U.S. States (Michigan, Missouri, and Utah) legalized marijuana and cannabis foe Jeff Sessions resigned as the Attorney General.
Mexico's incoming government proposes a new bill to legalize both medical and recreational cannabis on a national level.

Welcome to our Weekly Cannabis Report, a reliable source for investors to receive the latest developments and analysis in the cannabis sector.
Trading Summary
Cannabis stocks experienced a volatile week as multiple catalysts were met with a brutal selloff during the last two days. Horizons Marijuana Life Sciences Index ETF (OTC:HMLSF) gained 3.4% while the ETFMG Alternative Harvest ETF (MJ) gained 0.7% last week.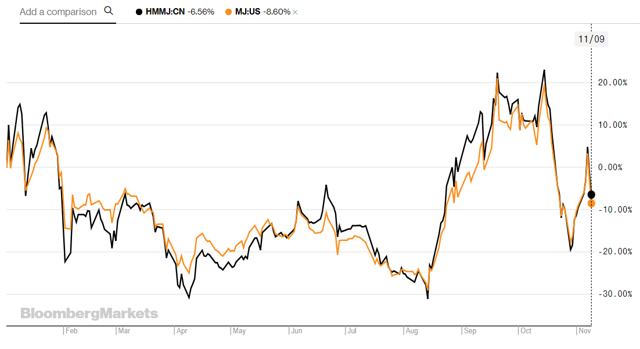 Canadian Large-Cap: Canadian stocks gained broadly after lagging the U.S. peers the prior week. Aurora (ACB), Canopy (CGC), and Aphria (APHA) all advanced single digits as all three stocks are listed on the NYSE now. HEXO (OTCPK:HYYDF) gained 2.1%, Cronos (CRON) gained 6.1% and OrganiGram (OTCQX:OGRMF) gained 2.4% on a relatively calm week. Tilray (TLRY) shot up more than 30% on Wednesday after Jeff Sessions resigned before giving back much of the gains during the following two sessions, which solidified its position as the go-to stock for speculators. CannTrust (OTC:CNTTF) continued its slide after losing another 3.8% last week making it the only loser among this group. Green Organic Dutchman (OTCQX:TGODF) continued its rebound with 17.8% gain and now trades above its IPO price.