Buying Cannabis Online, It's a no-brainer.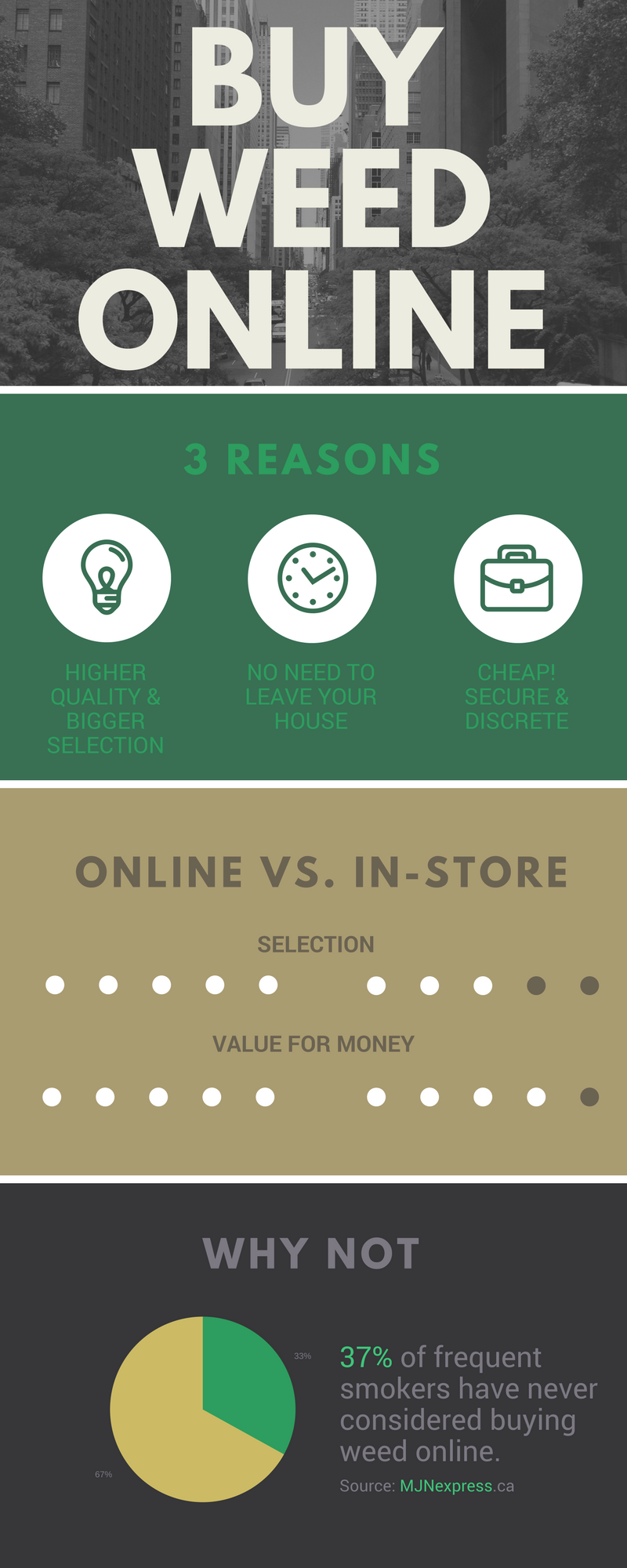 Let us break down this infographic…
Buying Cannabis Online is a recent phenomenon, as companies have begun giving patients the ability to purchase cannabis online.
As we begin 2018, Ontario prepares for weed legalization, however, they are treating weed like alcohol.
Only allowing certain stores to sell marijuana means higher pricing and scarce availability.
While attempting to legalize weed, Ontario has made a legislative misstep that could result in issues.
Other Canadian provinces are yet to determine exactly how they plan to regulate the sale of cannabis. Ontario has determined they are willing to allow consumers who would like Buying Cannabis Online to go ahead.
While this unfolds MJNExpress have determined three core perks to buy weed online.
 
Higher quality flowers and wider selection.
Purchasing weed from stores often results in marijuana that has been sitting for months.
The flowers being used are distributed to stores, not the same as buying sticky fresh weed, grown in British Columbia.
The selection offered is typically limited by space and various regulations. Especially those impending in 2018.
At MJNExpress.ca we have an extremely wide selection, offering strains, concentrates, edibles, vapes and much more.
We currently offer 57 different strains, like the famous Pineapple Express from the movie.
Get 7 grams for only $65 and a free joint with coupon code, freejoint.
That's just an example, but with 57 strains, chances are your favorite one is with us for a killer price.
Let's move on to the second reason.
No Need to leave your house when buying weed online Canada
Is it cold here, or is that just us?
MJNExpress has out headquarters in Vancouver, but if you live almost anywhere else in Canada, it is cold!
Ontario has temperatures which freeze the hair on your chin, Northwest Territories…well let's not even begin to discuss the weather in northern Canada.
The point here is that if you live in Canada walking to a dispensary to obtain your medical marijuana is not easy.
What If we told you that in only 2-3 days your weed would be delivered, there is no need to leave your house.
We think those people living in Yellowknife, Saskatchewan, Dalhousie, and every other remote city without enough dispensaries should consider shopping online.
Let the weed, come to you!
This brings us to the 3rd top reason to purchase weed online.
Buying cannabis online is cheap, secure and discrete
Dispensaries have less competition, let us face it, if you live near a dispensary you're probably paying $10 gram for their worst bud – at best.
MJNExpress have rotating offers, and most of our weed is less than $10 gram, and ALL our weed is less than that if you're purchasing an ounce.
We even offer free shipping, there are simply no downsides to purchasing weed online.
Instead of inputting your name into an establishment, we process payments securely and encrypt all user data so it will never be breached.
The cherry on top? The package arrives completely discretely, vacuum sealed and label-free. Nobody will know what you've delivered except for you.
We think that while using marijuana may no longer be stigmatized, it is important customers know that if they choose us as their mail order marijuana shop, they are safe.
37% of buyers have never considered buying weed online
We conducted a study recently, and our results were staggering.
In a sample size of 600 participants who regularly smoke marijuana day-to-day. 37% had NEVER considered buying weed online!
We think this needs to change, Ontario is cracking down ahead of the legalization of recreational marijuana. As stores begin to close, buying weed online has never been more popular.
If you would like to begin Buying Cannabis Online (the better way), visit our website mjnexpress.ca and we will give you a free joint (coupon code: freejoint).
Thanks for checking out our infographic!
If you think ordering weed online is something you'd like to do, simply head to our shop.