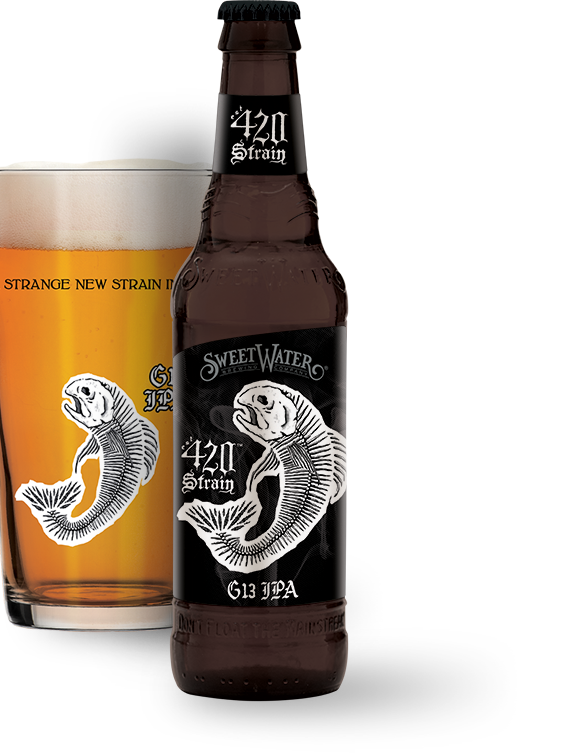 Selling cannabis-infused drinks is not legal in Georgia. But that hasn't stopped one of the state's most popular breweries from capitalizing on the burgeoning trend.
The New York Times featured Atlanta-based SweetWater Brewing Company Wednesday as part of a story looking at how brewers nationwide are putting marijuana derivatives into their brews.
SweetWater, of course, is not adding marijuana to its beer. However the brewery, which was founded in 1997, has taken its not-so-subtle fondness for pot to a new level.
Riding the wave of the company's most popular seller, the 420 Extra Pale Ale — which plays off 420 as slang for cannabis — SweetWater released a beer in June called 420 Strain G13 I.P.A that mimics the scent of marijuana.
Since its launch, the G13 has been SweetWater's second-best-selling draft beer available year-round. While it doesn't contain actual pot, the brew does have terpenes and hemp flavor that mimic the aroma of the G13 strain of cannabis, said a SweetWater spokeswoman.
"There's nothing better than watching a consumer pop a G13 cap, put it to his nose, take that first smell and see his eyes light up," SweetWater co-founder Freddy Bensch told the Times.
Michigan voters approved the legalization of recreational marijuana earlier this month, joining nine other states and Washington D.C., as launching a regulated market. Georgia legislators have never seriously considered legalizing recreational pot.
The Georgia General Assembly passed legislation in 2015 allowing patients with certain diseases to possess cannabis oil with a doctor's prescription. Georgia lawmakers have been meeting about how to increase the availability of medical marijuana in the Peach State, though a recent panel was cancelled.